Manufacturers
We are specialists in the repair and servicing of the following brands: Singer, Pfaff, Brother,Juki, Elna,Toyota,Bernina, Viking,New Home,Jones, Husqvarna,Janome,Riccar, Frister & Rossmann Bernette,Babylock & many more! Plus
Overlockers are our speciality!
"Buy from us for the best service and support!"

Main Stockist

Domestic Sewing Machines


Sewing Machine supplier

Sewing Machines

Sewing Machines


Juki HZL-DX2000
£1495.00
Please contact our shop for further details
Juki HZL-DX2000
Product Details

JUKI DX - 2000 Limited Edition
Much sought after return of this excellent machine available through selected dealers only and with our exclusive 7 year warranty.
Please call 01329-280499 to collect yours today. IN STOCK NOW!
Professional Quality Quilting & Sewing Machine
Created for quilters, backed with industrial technology + our 7 year Warranty.

Enjoy a new level of performance with JUKI's newest quilting & sewing machine.
That's the DX-2000QVP.

Innovative functions are realised through the fusion of Industrial and
Home Sewing Technology. Experience the machine and stitch quality that only the
largest Industrial Sewing Machine Company in the world can offer.
Release yourself from the stress of working towards perfection and
enjoy the new Smart Sewing Operation System with
customizable operations to fit your sewing needs.
Enhance your quilt-making experience with an exciting variety of
stitch patterns and specialty quilt accessories available only for the DX-2000QVP.
We are proud to introduce the DX-2000QVP.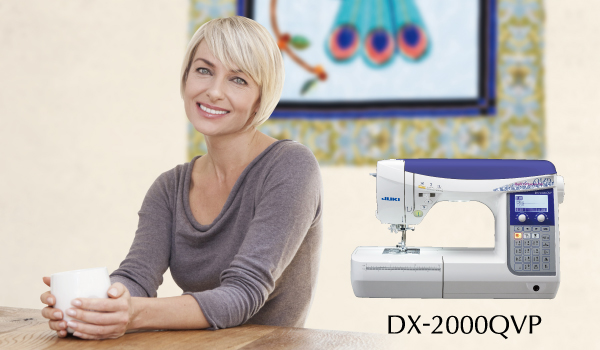 Box Feed - JUKI Industrial Sewing Machine Technology
| | |
| --- | --- |
| | The box feed technology moves your fabric to allow you to create perfect high-quality stitches on all types of fabrics. The box feed system stays in contact with your fabrics longer for a consistent, reliable seam every time. Piece perfectly without worries of shifting or sliding fabrics. |
Straight Stitch Slide Plate
Simply slide the front lever to switch to a single needle hole. Sew the lightest fabrics with perfect needle permeation. The single needle plate will not allow fabrics to be pushed into the needle hole. Free motion stitch with precision and perfection. Sew with confidence, when the single needle hole plate is set, only the straight stitch patterns can be selected.
| | |
| --- | --- |
| Needle hole for straight stitches | Normal needle hole |
Float Function Prevents uneven Seams
| | |
| --- | --- |
| | By pressing the float button, you can sew with the presser foot slightly raised. By raising the presser foot to float you can sew fabrics without pushing layers or creating uneven seams. This is effective when quilting and sewing appliques. The height of the presser foot can be set from 0 to 2.5mm in increments of 0.1 mm. |
Large sewing space
| | |
| --- | --- |
| | Enjoy extra space and comfort by adding the accessory table while quilting. |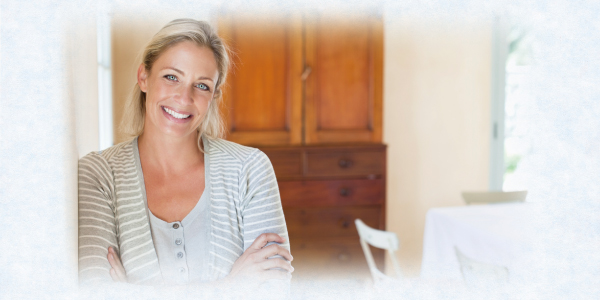 Speedy Straight Sewing
With a maximum straight sewing speed of 1,050 stitches/min, you can sew fast.
Automatic Presser Foot Lifting After Thread Trimming / Presser Foot Pivot Function
| | |
| --- | --- |
| Because the presser foot is automatically lifted after automatic thread trimming, you can quickly remove fabrics. | And when you stop sewing, the needle stops in the down position and presser foot automatically lifts to allow for fabric movement. Sew corners or pivot with ease, when you resume sewing the presser foot automatically and quickly lowers for continuous smooth sewing. |
*These functions can also be switched off.
Convenient Sewing Functions
| | |
| --- | --- |
| | Piece your quilts with ease using direct stitch selection No.3. Simply align the fabric edges with the edge of the foot, and sew perfect 1/4" seams. |
| | |
| --- | --- |
| | When free motion (quilt pattern No.01 or 02) is selected, the machine will automatically be set to float mode. While sewing, you can adjust the amount of float with the stitch length dial and smoothly move the quilt. |
Customising the Machine for Preferred Operation

n addition to the Easy-to-use Quick Select Buttons, customize your operating preferences by combining both the heel switch of the foot controller (Foot Switch) and the Knee-lifting Lever functions.
| | |
| --- | --- |
| | *Only one function can be assigned at a time. *Foot switch function can also be switched off. |
| | |
| --- | --- |
| | You can adjust the starting and reverse stitch speed between three steps of fast, normal, and slow. |
Check the video reference for convenient assistance!
With the combination of assured automatic operation and fine manual control, you can enjoy ideal natural operation.
・Foot Switch Function
・Presser Foot Pivot Function
・Hassle-Free Operation
Click here!
https://www.youtube.com/jukihomesewing/videos/watch?v=oF5SRq9Q78k
*You can access the video of JUKI DX series.


A Variety of Stitch Patterns
| | |
| --- | --- |
| | The machine includes 287 stitch patterns and 4 alphabetic/numeric fonts. The decorative patterns can be sewn as one point patterns. Up to 10 often-used patterns such as initials can be saved in the memory. |
| | |
| --- | --- |
| | Decorative stitch patterns include stitches inspired by the tradition of crazy quilting. The DX-2000QVP also contains Exclusive Juki quilt stitches know as Random Stitches. |
| | |
| --- | --- |
| | Enjoy even more designs by combining patterns. combine, create and stitch designs such as a beautiful lace braid. |
Beautiful Corner Sewing of Applique
| | |
| --- | --- |
| | The stitch width of the needle can be set to automatically and gradually change to achieve a stitch that gives a beautiful finish even to the corner of an applique or the start /end of a line of sewing. By adjusting the width and length, you can also control the angles of your design. |
Bonus Speciality Accessories With QVP edition




*Pearl Attaching Presser Foot




*Presser Foot with Guide




*Cording and Embroidery Presser Foot




*Applique Presser Foot




*Cording Presser Foot (for 3 cords)
Accessories to Enhance Your Quilting Experience included.



*Walking Foot




*Patchwork Presser Foot




*Open Toe Presser Foot




*Quilt Presser Foot




*Edge Sewing Presser Foot


*

Thread Stand (normally optional)





Stitch Area Magnifier


Creates 1.4 times magnification to the stitch area.




Quilt Presser Foot
(open type)


For free motion sewing. (Front part is open for better visibility).


Quilt Presser Foot (transparent type)


For free motion sewing and zigzag free motion sewing.

Control system

Computer

Number of stitch patterns

287

Number of available fonts

4

Buttonhole

Automatic (sensor system) with clamping plate

Cutting width adjustment of the buttonhole

X

Direct stitch pattern selection

10 patterns

Start/stop button

Green: Ready to start and/or while sewing




Red: Not ready to start




Orange: When the lock stitch button is pressed while the sewing machine is engaged in pattern sewing

Maximum stitch speed

1,050 sti/min

Auto thread trimming

X

Automatic needle threader

Automatic needle threader

Thread tension system

Automatic

Automatic lock stitch

Automatic lock stitch and thread trimming

Feed mechanism

BOX feed mechanism

Presser foot pressure adjustment

Stepless adjustment

Drop feed

X

Quick bobbin preparation

X

Bobbin thread winder

Bobbin winder with independent motor

Light

2 LED lights

Straight stitch slide plate

X

Float function

X

Free arm

X

Change in the length/width of stitches

Dial system

Number of needle position




(straight stitch/other than straight stitch)

37 / 3

Pattern (right and left) reverse

X

Twin needle sewing

X

Adjustable starting / reverse stitch speed

X

Lock stitch

X

Low-speed inching sewing

X

Presser foot pivot function

X

Memory function

10 patterns

Presser foot horizontality holder button

X

Height of lifting of presser foot




(1 step/2 steps)

Button system: 6 mm




Lever system: 6 mm / 12 mm

Hard case

Hard case with accessory storage part

Knee lifting lever

X

Wide table

X

Foot controller

Included; with foot switch function

Accessories

Standard presser foot (A)/Zipper presser foot (B)/Overcasting presser foot (C)/Blind stitch presser foot (D)/Buttonhole presser foot (E)/Manual buttonhole presser foot (I)/Walking foot (N)/Open toe presser foot (O)/Patchwork presser foot (P)/Quilt presser foot (Q)/Edge sewing presser foot (R)/Smooth presser foot (T)/Bobbin (4)/Needle set HA X 1 #11(1):#14(1):#16(1):for knit #11(1)/Twin needle/Quilt guide/Auxiliary spool pin/T-shape screwdriver/Ripper/Cleaning brush/Spool cap (large)/Spool cap (Middle)/Spool cap (Small)/Eyelet punch/Thread stand/Wide table/Foot controller/Knee-lifting lever/Power cord/Hard case/Instruction manual/Operation support DVD




*inside the QVP special accessories box: Presser foot with guide/Cording presser foot (for 3 cords)/ Cording and embroidery presser foot / Applique presser foot /Pearl attaching presser foot

Dimensions(mm)

445(W)x291(H)x210(D)

Dimensions with hard case(mm)

510(W)x305(H)x257(D)

Arm size

8.0"x4.4" (203x112mm)

Weight

10.3kg(21.6lbs)
Our Shop

Quicker & Simpler Checkout.
Order Today!
Collect at the shop or Free Delivery.
Visit our shop.


----
A Corner Shop with

FREE

CUSTOMER PARKING*.
The corner of West Street and Crescent Road. NEAR ALDI.
* Long vehicles please park at the rear.
-----
SINGER Trained
Over 40
Years Experience.
-----
Special Offer
Assorted Workboxes
1/2 Price with the purchase of
ANY Sewing Machine in-store.
Seen It For Less?
Price match &
Domestic Machine Trade-in Offer
Sewing machine repairs carried out on the premises
We service and repair all recognised brands
We give you 12 months warranty on all work carried out
We are recommended by the S.M.T.A
FREE Estimates, Free Safety check with every service.
Please check out our Sewing machine repairs page for details.
Part Exchange

your old machine for

New!
And you can also get
FREE

tuition for Life! in-store.
Free Delivery and book your tuition when you need it. Additional help by email or text.
For directions on how to find us please see our contact page.